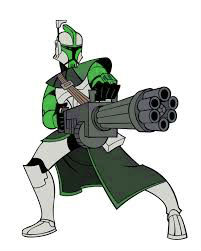 "Well, you're lucky to survive, 1159, that explosion was terrible"
"Heh, the Survivor of Geonosis, that's what you are."
"Survivor. I like that."
-CL-0702, RC-1327/a, and Survivor
RC-1159, nicknamed
Survivor
, was an Clone Commando who served in
Tauntaun Squadron
during the Clone Wars and, unlike standard Clone Commandos, wore green ARC Trooper armor, which made him stand out from the rest of the Commandos.
Ad blocker interference detected!
Wikia is a free-to-use site that makes money from advertising. We have a modified experience for viewers using ad blockers

Wikia is not accessible if you've made further modifications. Remove the custom ad blocker rule(s) and the page will load as expected.